Some links in this post may be affiliate links. If you click on them we may make a commission from qualifying purchases at absolutely no cost to you.  Read our full Disclosure Policy here.
Are you wondering how to organize math centres in your upper elementary math class? Are you unsure about getting started with middle school math stations? Keep hearing that setting up math centers is so important but you're confused about how to set up the centres? Well, you're in the right place!
[toc]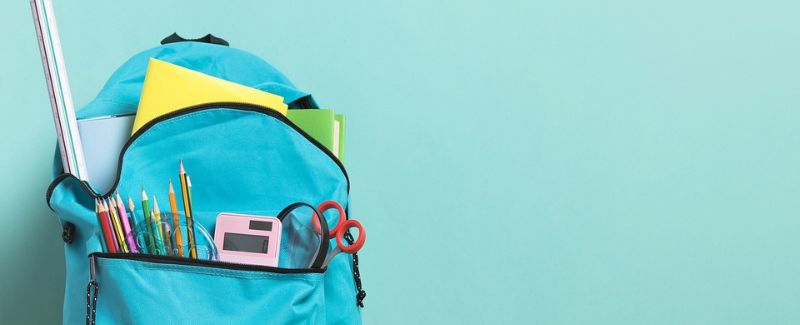 READ THIS POST:
Why are Math Centres an Important Part of your Math Program?
While there is plenty of scientific and psychological data to explain this, let me just hit you with why they are so important in MY classroom and what I absolutely love about them!
I am able to work with small groups and/or individual students during centres. Small group guided teaching is the most powerful teaching time you have.
Centres are designed to reach different learning styles.
My students love math centres and are their most engaged (and focused) during this time.
Students practise and review math concepts with independent or group tasks.
Math centres improve student collaboration, cooperation and initiative.
Centres are great for spiralling math instruction. Include centres from various strands.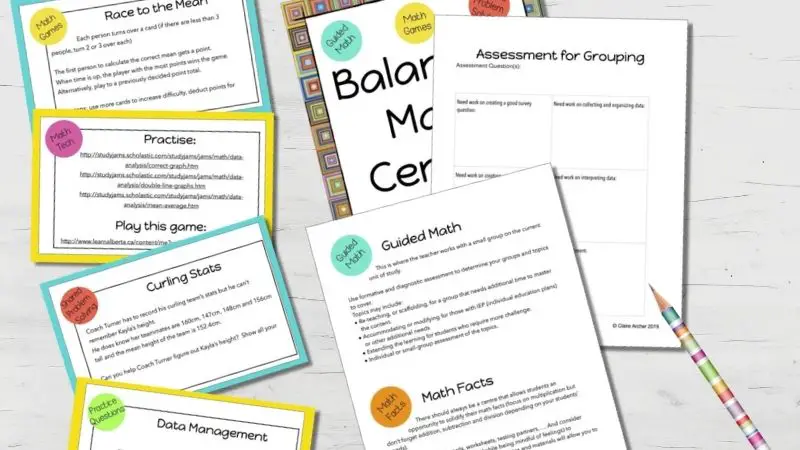 How to Prepare for Math Centres
Effective math centres need to run independently so there needs to be some pre-planning and organizing to allow students to know what is expected of them.
1. Decide on the types, and number, of math centres you want.
How many math centres do I need? There are two things to consider when deciding how many math stations you will need: the size of your class and how often you will be able to complete a centre rotation.
Groups will ideally be approximately 4 students as this is large enough for partner and small group activities but not too large to create unwanted noise and distractions.
If your class schedule only allows for centres once a week, you may want fewer stations as it will take much longer to get through them all.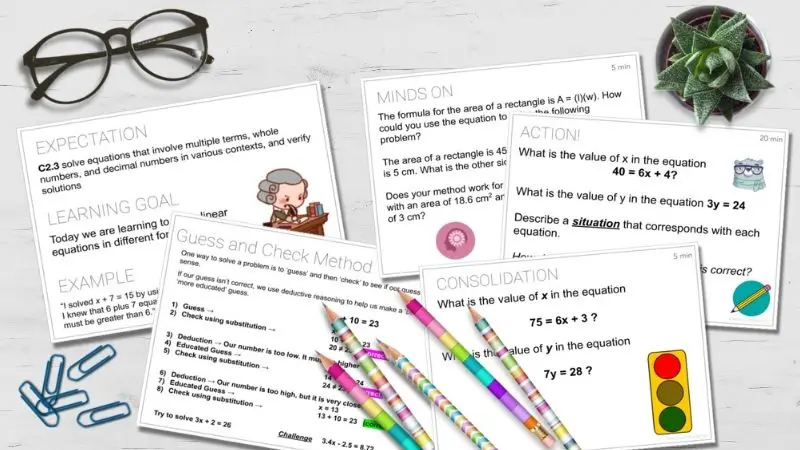 READ THIS NEXT:
What types of activities should I have in my math centres? You need to ensure that your centres are allowing students of multiple learning styles, and levels, to have success with the activities.
Tasks should include independent and collaborative work, paper and pencil and hands-on tasks, traditional practice tasks and fun games, simple knowledge-based questions and problem-solving questions.
How do I set up my math centres? I like to have 6 centres that are always the same (obviously I change the specific tasks at each 😜).
My centres include:
Math Practice – students work independently on knowledge-based review questions in their math notebooks or a worksheet. This is generally based on our current unit of study.
Shared Problem Solving – students work collaboratively to solve a higher-level thinking question on chart paper using the 4-step problem-solving model.
Math Journal – students work independently to complete a math journal task. This is generally focusing on the Application and/or Communication achievement categories.
Math Facts – students work together to practise their math facts (this may be addition, subraction, multiplication or division depending on the grade and their competency level).
Technology – whenever possible, I have a technology centre where students can go to online questions, instruction videos or games to practice and review classroom content.
Math Game – students have fun with a math game that focuses either on a current/recent unit of study or general Number Sense skills.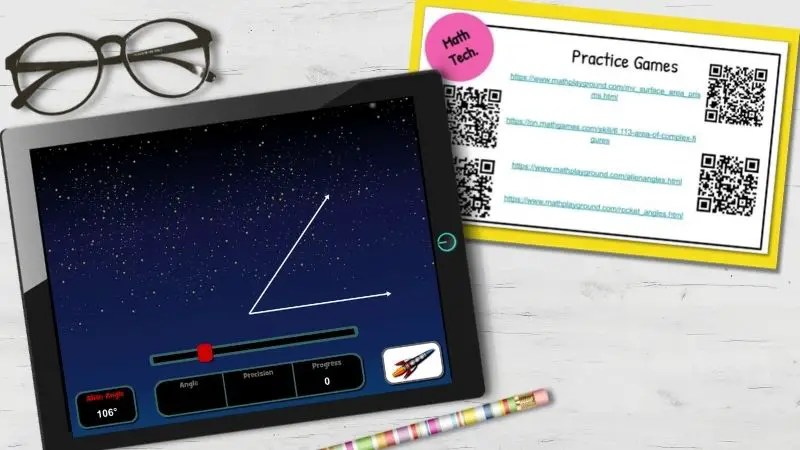 2. Consider the environment for each math station.
Where will each group work? Different activities will require a different space. My Math Practice and Math Journal groups need to have desks. My Math Facts and Math Game groups are generally the noisiest and, therefore, in a more open space further away from where I will be teaching guided groups. The technology group of course needs to be near electrical outlets.
What should be included in a math center? All materials that students need should be provided with the centre materials in a easy system. I like to use small bins for each centre that one student can get at the start and bring to the group.
Wherever possible, I included all materials in that bin – dice, counters, markers… if it fits, it's already in there for them. Anything that is too large is easily accessible on a classroom shelf. Clear instructions are a must to limit interruptions.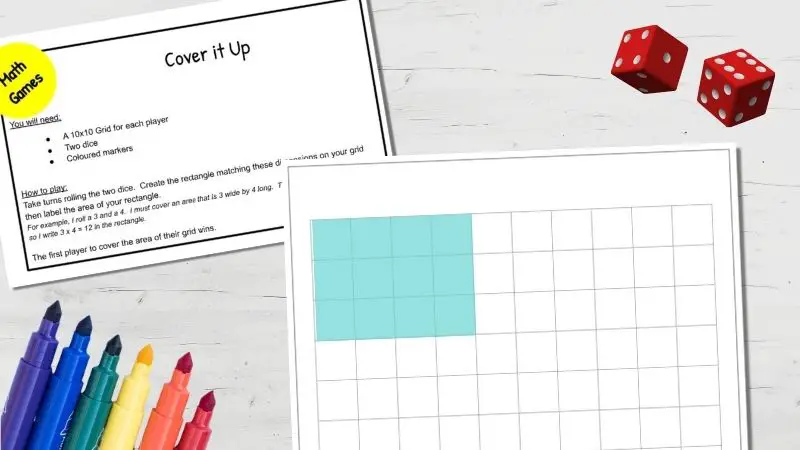 Organizing Math Centers
Decide on a storage and organization system for your centre materials that students can access and manage independently.
I use this 10-drawer rolling cart and use 5 drawers for math centres and 5 for literacy centres (two centres don't really need a bin).
It's great if you don't have a ton of space in your classroom. I pop it right beside my desk so it's easy for me to change out the activities. And the top gives me a little extra space for dumping crap organizing paperwork.
However, when those drawers are ready to be replaced, I would LOVE to have this one instead. The 12 drawers provide space for every centre to have a bin. The centres with large items – I'm looking at you Math Journals! – will have more space and there's more space on the top!
Excuse me while I go take a sledgehammer to my old rolling cart…
I have a large 3-ring binder with a section for each math centre. All the task cards and worksheets that aren't currently in rotation live here. There are page protectors in each section so it is super easy to pop the task cards in and out without needing to hole punch everything.
When it is time to switch out the centres, I can just grab the binder, put the old one back in and find the next one I want to use. If I were more organized, I might have a page protector for the ones I've used and the ones still ready to go… but I'm not!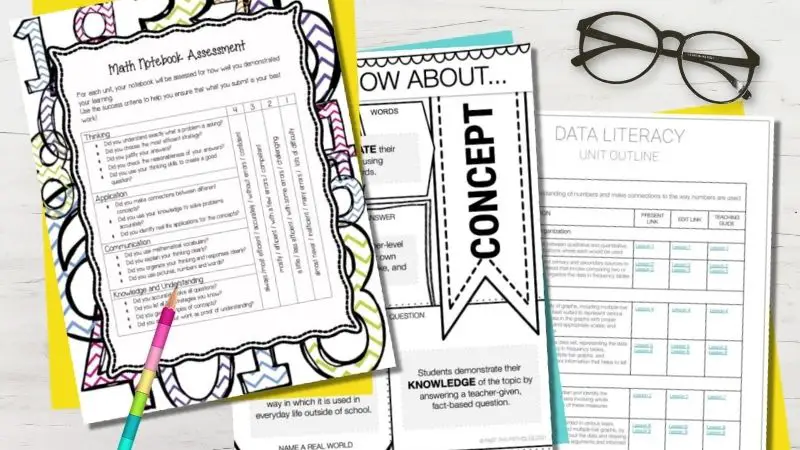 READ THIS NEXT:
Running Math Centres for Upper Grades
There is no right or wrong answer for when you should run your math centres. Except consistency is important.
How often do you do math centres?
In an ideal world, I would love to have a 60 minute lesson followed by a 30 minute centre rotation each day. However, I've rarely been able to pull this off!
Our complete math programs typically have three detailed, 3-part lessons per week. This allows for 2 days for review and practice. On these days, you could do a quick whole class review lesson, math worksheet or review game followed by two centre rotations.
How do you manage centres in the classroom?
There is a lot of practice with the routines surrounding centres at the beginning of the year. Students need to know exactly what is expected of them and the consequences for not meeting those expectations.
For them to have success, set up everything ahead of time and make it accessible and easy to follow.
I have a wheel at the front of my classroom that tells everyone which centre they need to go to. Each time we do a rotation, someone turns it one space clockwise. This works so well as if we run out of time and don't get to centres, I don't have to shuffle anything, or remake the schedule – we just don't turn the wheel!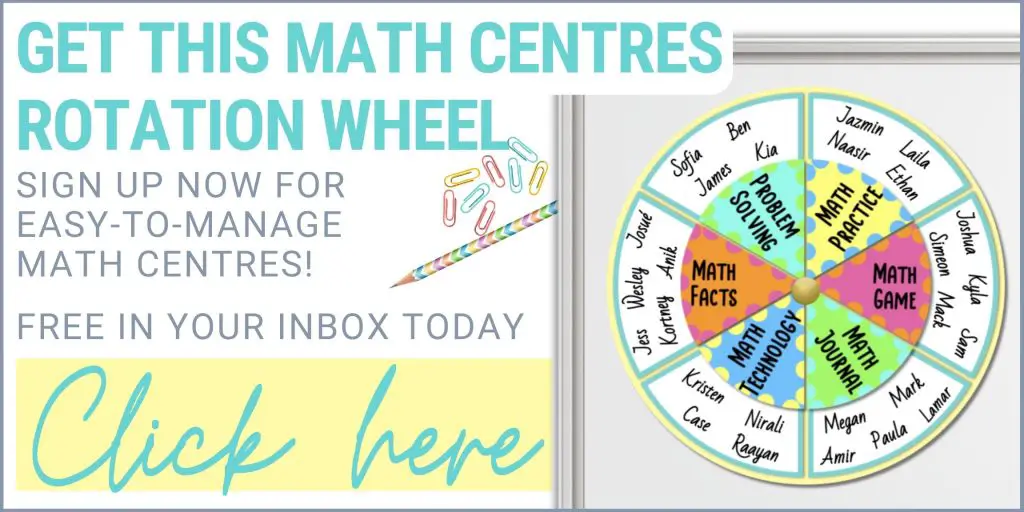 The centre materials are in the drawers beside my desk and one person from each group (decide which one!) is responsible for collecting the bin and returning it.
Voices are expected to be at a whisper at all times. I do a lot of wandering and shushing at the beginning of the year before I even consider pulling a small group.
What does the teacher do during math centres?
This is the real reason to do math centres right here!
While the students work in their groups, you get to pull small groups of students, or sometimes individuals, to teach, intervene and assess.
Some ideas may include:
Take a struggling group and work on scaffolding tasks to build up skills
Take a higher group and challenge them with more advanced questions
Work with small groups on the current unit to review, teach and build on whole group lessons (so much easier to see who is understanding what!)
Take individual students for assessments
Take students who have been absent to catch up
Work on number sense skills that students are missing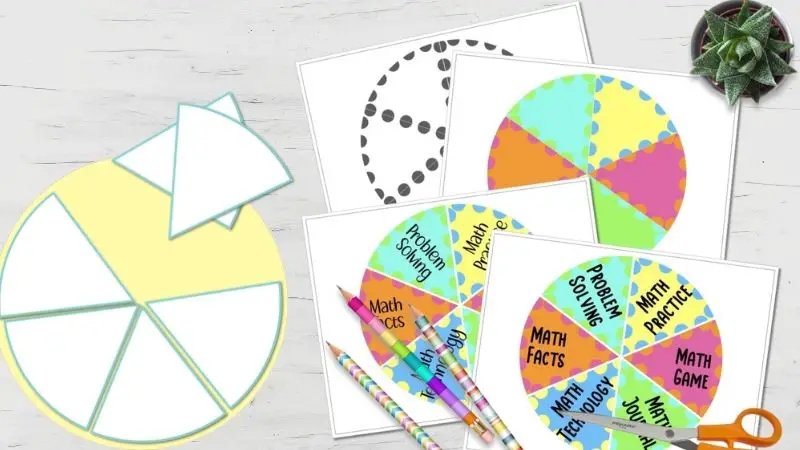 Tips for Effective Math Stations
Again, there is no right or wrong way to set up math centres BUT there are definitely a few things I've learned along the way that help them to run so much smoother.
Classroom Environment Tips for Math Centres
Use a round table or horseshoe table for guided groups to facilitate discussion and make it easy to see their work.
Designate a class location for each centre that doesn't change.
Make sure the louder groups will be further away from your guided groups.
Have a 'hub' where all math materials are housed that students can access independently.
Materials for Math Centres Tips
Have a set of whiteboards and markers for your guided groups. It's quick and easy to use, saves paper and kids love to use them!
Use a timer to keep everyone on track.
Include clear instructions at each centre so students can work independently
Have all materials gathered and prepared ahead of time
Use a visual to let students know which centre they are going to.
Have class lists with space for anecdotal notes at the round table at all times.
Organization and Planning Tips for Math Centres in Older Grades
Take September (and as long as you need) to set clear expectations during centres before you start taking small groups.
Don't schedule specific days for groups/centres. You'll give yourself a headache every time things need to be changed. Use the wheel below!
Always create heterogeneous groups for math centres. Each group should have a stronger math student to support and a leader to organize.
Guided groups should be homogeneous and need to work on a common skill or concept.
Keep each rotation to 20-30 minutes. Long enough for students to complete the tasks. Not so long they start to get distracted.
Make activities as open-ended as possible (and 'if finished' tasks) so you're not always having to scramble to change out the activities.
Don't include the guided group on the rotation schedule. When things happen, and they do, you won't have a 'homeless' group to deal with.
Pull students from different groups so each group has enough members left to complete the activities.
Don't worry about assessing all the centre work. Consider it practice that, most importantly, allows you to do small groups.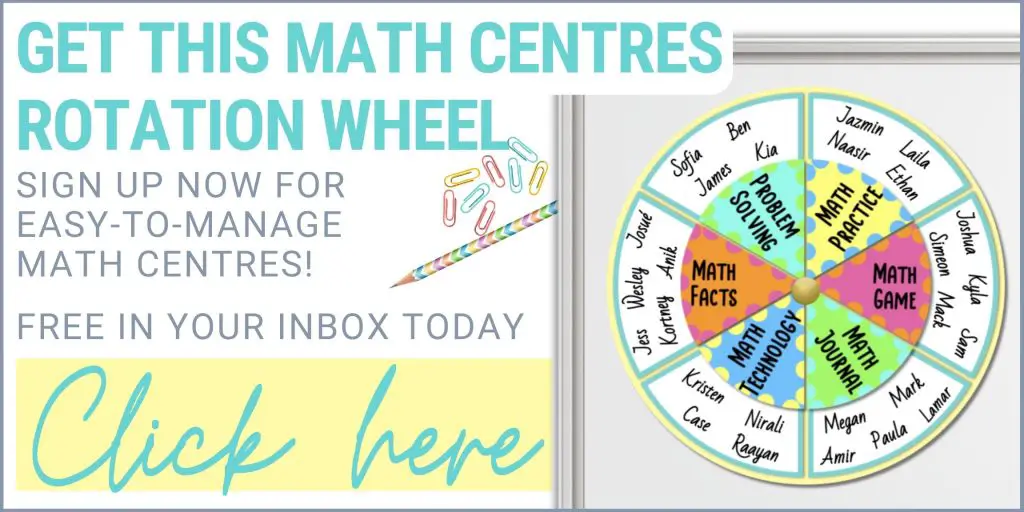 I hope you found some useful information in this post and you've got some fresh ideas to take straight back to your own math centres!
What are some of your favourite math centre activities? What tips would you add to this post to help people setting up math centres?
Comment below!
Found this post helpful? Pin it now to find it easily later!