Some links in this post may be affiliate links. If you click on them we may make a commission from qualifying purchases at absolutely no cost to you.  Read our full Disclosure Policy here.
Are you an elementary math teacher looking for ideas to effectively organize your math block schedule? You're in the right place!
We'll break down the 6 components of effective math instruction that should be included in your daily math block (schedule examples for 90 minutes and 60 minutes included)!
Over the years, I have experimented with a number of different elementary math block schedules, trying to find the best fit. It changes a little based on my unique group of students each year but there are a few essential math block components and daily math activities that are always present.
This post gives you all the information you need to develop your own amazing math program that engages your students while teaching them. We want to help you be the best teacher you can be, while managing to maintain a healthy work/life balance.
Want to save time with a ready-made elementary math program?
However, if you are looking for a ready-made, high quality math curriculum that is already tested and teacher approved, we have full year math bundles available in our TPT store.
Everything in this post is included in all our math units with teacher notes and answer keys! We have poured literally hundreds of hours into creating these huge bundles so we KNOW you will be saving a huge amount of time and stress!
PLANNING YOUR ELEMENTARY MATH BLOCK SCHEDULE
This post is specifically geared toward a junior math classroom as that is the bulk of my teaching experience. However, it could easily be used in primary or intermediate grades. You may make small changes to the timing based on student attention spans but not much else would need to change.
Each of these components should be included in your daily math activities to give students plenty of opportunities to learn, practice and review math concepts in a variety of ways.
Warm-Up
Transitions are invariably a source of stress, noise and loss of focus. I always begin with a bellwork or warm-up activity. This is something simple that reviews previously taught concepts.
This is a routine that is instilled from the beginning of the school year. Students know exactly what to start working on as soon as they have settled. It isn't a big deal if some students don't complete, or even start, this activity.
TIP: This is a perfect time to review and reinforce Number Sense concepts throughout the year and/or build in some math spiraling!
You want to follow this with a 'Minds On' task. This is a quick activity designed to get your students' brains engaged in the current topic. It might be an open-ended question, quick game, video, review of the previous lesson… there are many options.
Action / Experimentation
Students need a chance to collaborate and discuss with classmates. The days of spoon-feeding students the algorithms (or steps) to complete a math operation for them to memorize are long gone!
Students should be presented with an open-ended problem and then allowed to work in partners or small groups to develop their own strategies and overcome the challenges they face in doing so. This is how students develop a deeper understanding of the content being taught.
The challenge as the teacher is to allow your students to struggle. We all want them to do well and be happy, but the struggle is where the learning happens! Guide them with thoughtful questions, lead them a little if they are getting too frustrated but don't just tell them what to do or how to do it. I cannot stress this enough.
This isn't a test. Wrong answers and mistakes do not equal failure. Drill it into your students that asking questions and making mistakes is what successful students do – it's how we learn. So many kids arrive in the junior grades with the idea that these are signs of not being smart or failing.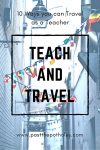 READ THIS POST:
How to Teach AND Travel
Direct Instruction
At some point, you are likely to want to just 'teach' something to your students. Wherever possible, I like to leave this until after my students have had a chance to experiment with their own understanding of the concept at hand and collaborate to construct their own strategies.
Occasionally, particularly if the topic is brand new, I may give the direct instruction right after the Minds On activity, however.
Consolidation
This is, I find, the hardest part to do well as the teacher but is the most important element of your math block. Consolidation usually happens in the form of a whole class discussion. Students share their strategies in solving the problem, challenges they faced and how they overcame them.
The teacher's role is to facilitate this with meaningful guiding questions. This is also the spot where you get to actually show students how to complete problems, rather than letting them explore.
Math Centres / Independent Practice
Balanced math centres or stations are an important part of any elementary math program. Giving students a chance to practise and master skills is crucial as one lesson is rarely enough to fully cement any concept yet we all know there aren't enough days in the school year to dwell for too long on any topic.
Centres are also a great opportunity to incorporate math review from earlier units as well as include spiral math strategies. Students love when it is time for math centres and they are one of my favourite daily math activities too!
Math stations should include opportunities for students to work independently as well as practise cooperation, communication and problem-solving skills. I like to include some fun games at at least a couple of centres as well as drier practice work at some others.
As much as possible, keep centre tasks open-ended with options for early finishers so you are not bombarded with questions of what to do next!
Learn more about how I set up math centres here.
Guided Math / Small groups / Individual support
Well-organized math centres will allow you to run small guided math groups or even individual intervention during class. This is the best time to work with students in need of a little extra practise, help with a challenging concept or students with IEPs (Individual Education Plans).
We all know that small groups are far more effective for teaching than whole groups yet they can be so hard to manage. My balanced math centres allow me to work with 1 or 2 small groups or individuals during each round of centres without interruption and have truly become the most effective part of my math programming.
ELEMENTARY MATH BLOCK SCHEDULE EXAMPLES
Now you've figured out the components of your math block, how will you fit all the pieces into your schedule? I'll give you a few options depending on how much time you have each day for your mathematics program.
90 Minute Math Block Schedule – Lesson and Centres Every Day
This is my ideal schedule. It allows for a full 3-part lesson and math centres with small groups every day. (NOTE: I actually have a 100 minute math block but you know 10 minutes is lost to transitions each day anyway…)
0-5 min: Bellwork
5-10 min: Minds On activity
10-30 min: Action
30-50 min: Consolidation
50-60 min: Formative Assessment
60-90 min: One or two rounds of centres depending on time (each with a teacher-led, small guided math group)
90 Minute Math Block – Lesson Only
Time management is not my strongest skill and, despite my best efforts, I struggle to complete the 3-part lesson in 60 minutes. Depending on my students that year, it may be downright impossible. If you are like me, this schedule may be more realistic:
Monday to Thursday
0-10 min: Bellwork
10-20 min: Minds On activity
20-40 min: Action
40-60 min: Consolidation
60-80 min: Formative assessment
*The remaining 10 minutes can be used for catch-up, practice questions, or often simply gets lost in transitions!
Friday
0-10 min: Bellwork
10-30 min: Centre rotation 1
30-50 min: Centre rotation 2
50-70 min: Centre rotation 3
70-90 min: Centre rotation 4
90-100 min: Clean up
60 Minute Math Block Schedule
I get it, not all schedules allow for 100 minutes of daily math (I urge you to really try and make it happen though!). This option fits in all the important elements of an elementary math block in just 60 minutes a day.
Monday to Thursday
0-10 min: Warm Up / Minds On
10-30 min: Action
30-50 min: Consolidation
50-60 min: Formative Assessment
Friday
0-10 min: Warm Up / Minds On
10-35 min: Centre Rotation 1
35-60 min: Centre Rotation 2
Organizing Elementary Math Block
As you can see, there isn't just one specific correct way to teach math. However, I strongly believe that the 6 components listed above are essential for developing strong mathematical thinking in students.
If it is feeling overwhelming to schedule all the components into your math block, don't panic! We've got ready-to-teach math programs available for grades 4-8. Each bundle includes all the elements discussed in this post AND MORE. We've personally used these in our own classrooms so we know you can achieve great results too!
---
How do you schedule your math block? What do you consider the most essential elements of a math lesson? Comment below to share your ideas with others!
Did you find this post helpful? Click an image below to save to Pinterest so you won't lose it!